We are one of Edmonton's most trusted cash for cars company. We buy junk/scrap cars for cash, and we pay big cash for useless, broken, accidented, fully damaged cars. There are companies who try to tow away junk cars for free and sometimes they even charge for towing. But when you call us we never let any car owner deprived of good cash for his car. No matter what is the make, model, condition of your car. We always pay. Our junk car removal service is the easiest and customer friendly. You only have to call us and ask for the pricing after explaining the condition of the car. once we both are agreed upon the price then you tell us the time and date for the pick up. We send our tow truck to your place on the given date and time, he pays you the cash on the spot and tows away your vehicle.
If your scrap car is in better condition then you can expect to get paid big bucks. We never consider every junk car the same hence we pay price for scrap cars according to the condition of your car
Junk Car Recycling Information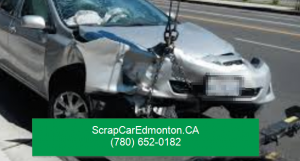 Dealing with a totaled vehicle is difficult. You are perhaps still shivering from the accident that caused it, you have to say goodbye to a
Read More »
These guys are just awesome. I found them doing a quick search for "Junk car buyer near me" and there listing popped up. I gave them a call and the gentleman that answered the phone was very courteous. They were accommodating to my schedule and came in the evening to pickup the car and paid me cash on the spot.
Cash For Cars will lead to many search results on Bing but ScrapCarEdmonton.CA is unlike others. They go the extra mile to explain to you the whole process and even the price evaluation so you know you are not being cheated.
ScrapCarEdmonton.CA is the best junk car removal company out there. I have junked a few cars as we operate a storage yard and many people just abandon their cars. These guys have always paid me enough to cover my rental loss and more. Thanks Jeff.
I had no idea what to expect when I called these folks. I had an accident which led to the car being slated a total loss. The insurance company paid me the money and said I can keep the car too. I did not know what to do so I called Cash for Cars Edmonton and they came out and paid me $900 for a car that was already written off. Thanks.
We try to buy every scrap car there is in Edmonton. To do so, we never hold back from paying big amount of cash for your junk car. We beat any other offer you get from a competitor.